Fun things to do in Alabama!!!

Tuscaloosa is located along the banks of the Black Warrior River in West Central Alabama. Tuscaloosa is led by a Mayor/Council form of government and is home to over 90,000 residents as well as a thriving business community.
Tuscaloosa has appeared in Money magazine's annual list of the country's best places to live. The ranking is based on qualities most valued in a place to live as stated by Money magazine subscribers.
Tuscaloosa is famous for its gridiron action and the home of the original Dreamland Barbeque, but if you take a closer look, you'll see that's not all we have to offer!
See and do it all in Greater Tuscaloosa. Every fall, the nation's eyes focus on Tuscaloosa for the best in college gridiron action at the University of Alabama's Bryant-Denny Stadium. In addition to University of Alabama athletics, Tuscaloosa visitors can choose from a variety of other forms of entertainment. Over 20 points of interest including a historic theater, several parks, and a variety of galleries, museums and antebellum homes radiate around the area. Water sports fanatics relish in Tuscaloosa's beautiful lakes and rivers while golfers tee it up on our gorgeous golf links. Greater Tuscaloosa has 33 public parks, providing the perfect spot for your group's outdoor activities.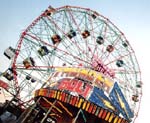 All the wonders of Alabamba a click away
Alabama Museum of Natural History Hours: 10:00 am - 4:30 pm Tuesday-Saturday. Admission charged. Experience the natural diversity of Alabama, view collections of geology, mineralogy, history, and paleontology. See the Hodges meteorite, the only meteorite known to have struck a human being. After- hour rentals, special programs and tours are available.
Bama Belle Riverboat Located in the Black Warrior RiverWalk Park. The Bama Belle is a modern day replica of the grand paddlewheel riverboats which graced the Black Warrior in the 1900's. Today, you can experience the same magical, romantic, nostalgic celebration of the American spirit on the Bama Belle. The Bama Belle provides an exquisite setting for sightseeing & dinner cruises. Charters for private parties, business meetings or holiday celebrations are also available. Capacity- 200 passengers.
Bama Theatre The oldest operating theatre in Tuscaloosa. In 1938, the Bama Theatre served as the community's grand movie house, as well as the only air-conditioned building at that time. The Theatre was one of the last movie palaces built in the South. The building was odd but an interesting mixture of Art Deco style, popular during the period and the lavish so-call "atmospheric" style of theatre architecture popular in the 1920's. The interior is decorated in the Moorish style of Renaissance Spain. The house of the theatre is actually a reproduction of the courtyard of the Davanzati Palace of Florence, Italy. The entire orchestra and balcony sections are decorated as a Spanish courtyard, complete with balconies and ironwork. Twinkling stars and clouds on the night sky ceiling complete the open-air feel of the performance hall.
Battle-Friedman House & Gardens Hours: Open Tues. - Sat., 10-4 Sun., 1-4 Admission charged. The elaborate architectural details and historic furnishings offer a glimpse back to early 1800's. Alfred Battle built the home in 1835. With a servants house, carriage house and grounds, it once occupied the entire block of what was then Tuscaloosa's main residential street. The two-story house was built with brick walls 18 inch thick. The house is now maintained by the Tuscaloosa County Preservation Society as a social and cultural center.

ARE YOU HAVING FUN YET?
Bryant Denny Stadium Home of the 12 time National Champion Alabama Crimson Tide. Currently seats 83,818. For sporting events, no umbrellas,cans,bottles,coolers, thermal bottles,food, alcoholic beverages or artificial noisemakers are allowed in the stadium. Also, there is no smoking allowed in the seated arena. Video cameras and other recording devices are also forbidden.
Children's Hands On Museum (CHOM) Hours: Mon. - Fri. 9 - 5 & Sat. 10-4. Museum stimulate the imagination and the intellect, and children will learn how and why at CHOM, where they are part of every exhibit. Children can step into historic and scientific "worlds" such as a planetarium; a recreated Choctaw Indian Village; a hospital, where they can play doctor; and many other life-like scenarios. Special programs and hands-on exhibits make this an anticipated stop for the family. Be sure to see Once Upon a farm, their newest exhibit. The CHOM gift shop provides stimulating educational toys, games, puzzles and books. Groups of ten or more can schedule special field trips to CHOM. Admission: ages 1-3 yrs - $4, 3yrs and up - $7, Sr Discount 60yrs and up - $6.
Critter Creek Farm SEASONAL. Petting Farm and Farm Wildlife Center. Great for groups
Mercedes-Benz Factory Tour

There is something for everyone. At the Mercedes-Benz Visitor Center and Museum, you'll enjoy exciting multimedia exhibits, vintage automobiles and our world-class gift shop. And kids will love our exclusive video"The Big Auto Plant" that illustrates just how an M-Class is made in Tuscaloosa county. Open Monday-Friday. FREE admission.


Moundville Archaeological Park Located 12 miles south of Tuscaloosa, preserves 325 acres on the Black Warrior River of what was once America's largest city north of Mexico. During the Mississippian Period (AD 1000-1500), Southeastern Indians constructed large earthworks topped by temples, council houses, and homes of the nobility. Twenty-eight of these flat-topped pyramids, the tallest 60 feet high, survive at Moundville as remnants of a ceremonial and economic center whose trade routes extended across eastern North America. The museum contains artifacts unearthed at the site during archaeological excavations. Ehibits interpret the lifeways of the natives who lived here during prehistoric times. The gift shop offers an excellent selection of books and Indian Crafts. Admission Charged. Grounds are open daily from 8:00 am until dusk. The museum is open daily 9:00 am to 5:00 pm from March through October and 9:00 am to 4:00 pm from November through February.
Tannehill Ironworks Historical State Park This historical state park contains a monument to the confederacy. The park offers camping, golf, hiking and swiming. Special events include a re-enactment of a Civil War battle and monthly Trade Days. This park is located west of Tuscaloosa off of I-20/59.
The Paul W. Bryant Museum Hours: Open daily, 9am - 4pm. Admission: adults-$2, children,seniors-$1. Gift Shop. The Paul W. Bryant Museum is the place where"football season never ends!" Named in memory of the legendary Coach Paul "Bear" Bryant, the museum showcases over 100 years of Alabama football history. A major tourist attraction in Tuscaloosa, the Bryant Museum is a "must see" attraction. The exhibit hall highlights teams, players and coaches from the 1892 season to the present with memorabilia, trophies, photos, art, videos and interactive computers. The media, public and researchers depend on the Bryant Museum research library as a source for images and information. Private parties, civic groups, businesses and conventions choose the Bryant Museum's unique atmosphere for after-hour tours and receptions.
Westervelt Warner Museum of American Art | The musuem includes the holdings of Tuscaloosa businessman, Jack Warner and includes interior furnishings dating from 1700-1865. Paintings by more than 40 different artist are exhibited, including works by Edward Hopper, Mary Cassatt and John Singer Sargent. Recognized as one of the most extensive collections of 19th and early 20th century American art, the Warner Collection displays more than 150 works of art. Hours: 12-5 pm Tues.-Fri.,10-5 on Saturday and 1-5 pm on Sunday. Admission: $7
Woods & Waters, Inc. This new 40,000 sq ft store includes "Giants Of The Wilderness" their 60" by 45" tall centerpiece host the finest world class mounts from around the world, fresh water aquarium stocked with fish you only dream of catching. 2,500 sq. ft. gift and cabin furnishings department. Hours: M-Sat., 9-9 and Sun. 1-5 pm.